Workshops for Mountain Dulcimer
"I lead a small Sr. Mt. Dulcimer Beginners group - and I can say this - I like your teaching style - your clarity- your smile. Thanks for all the hours it takes to prepare for this class and your follow up." 
In Peace,
Nancy Maes-Simonetti 
Kansas
Good afternoon Lorinda,
Thank you for sending the you tube link I will be looking at it shortly.  I also want to thank you for the outstanding class on Chord Theory/Improvisation. I want to  commend you for your through preparation and excellent presentation of the material. 
 Thank you soo.... much.,
Roger Tanis 
Choose from this selection or contact Lorinda for a custom presentation.
The Joy of Playing the Mountain Dulcimer, a rewarding first experience with one finger and a pick
Chord Theory that leads to improvisation/meditation/composition
Moving Forward: Playing notes on the middle string in DAD tuning
Chord Substitution: Know when and where to substitution minor and major chords in an arrangement
African American Spirituals arranged in an arpeggiated style
Songs from Turlough O'Carolan the blind harper
From Drone Accompaniment to Chords
An Irish Music Sampler
Love songs from the Civil War Era
Scottish Airs arranged with lush chords and ornamentation
Armed Forces Medley: Learn all 5 songs of the US branches of military
Playing songs in four common time meters: 2/4, 3/4, 4/4/ and 6/8
Playing from a lead sheet: read traditional notation and chord symbols to make your own arrangements
Chord building from one finger to three
Three-part arrangements for standard dulcimer
Irish dance tunes: jigs, polkas, hornpipes, reels
Modulation: learn scales, chords and arrangements to change keys without a capo
Kentucky song bag: traditional tunes from the state that is the home of the dulcimer 
Easy duets: two parts for beginning and novice players
St. Patrick's day party pack: variety of well-known Irish tunes 
Jam Survival: tunes and tips
Medley Making: how to effectively combine tunes for an effective set
Ensemble Classes: arrangements for 2 dulcimers, baritone, and bass
Soprano and Baritone Duets: parts for soprano and baritone in D
Repertoire for older adults: tunes and program planning ideas
Modes and Scales: tuning and songs using Mixolydian, Ionian, Aeolian, and Dorian. capo required
Learn how to love, rather than avoid your 1.5 fret. Play in D major, D minor and G
Focus your Fingers: learn finger placement to create a home base to support phrasing for smoother playing
Crossing the Celtic Land: music from the six Celtic nations of Ireland, Scotland, Isle of Man, Wales, Cornwall, Brittany
Play Well with Others: arrangements and arranging skills for mixed ensembles, dulcimer tab, chords, and melody instruments
Mindful Practice leads to an Enjoyable Performance: An interactive lecture for tips and techniques in sharing your music
Build A Strong Foundation: learn using a musical approach by playing melodies, chords, and then tablature
Traditional Notation: play by reading traditional music notes
Playing by ear: move away from the tab by starting with simple tunes by ear
DAA: explore the dulcimer in DAA tuning, learn the noter style, and use beautiful parallel chord harmonies
Shape Note Hymns on the dulcimer: play 2 and 3 part hymns arranged in the style of William Walker's Southern Harmony
The World of Wales: learn beautiful airs and lullabies from Wales
Celtic solos and duets: jigs, hornpipes, and O'Carolan tunes arranged for one and two players
DGD: play in the beautiful full sound of DGD tuning
Waltzes around the World: from ancient harp tunes to Spain and North America
Black Spirituals: songs and history of black spirituals arranged in fingerpicking, flatpicking, and traditional strumming styles
Decorate your tunes: learn to add hammer-ons and pull-offs to embellish your melodies
Classy Dulcimer: adapted arrangements of classical tunes
Appalachian Christmas:  Christmas tunes from the mountains
Christmas songs for the beginner
Becoming Capo"able": use the capo to change keys in existing tunes and read tab written for capo'd songs
Gospels Galore: traditional gospel tunes arranged for solo, duo and ensemble
Right Hand Workout: get more out of the right hand with arpeggios and fill-ins
Songs of Thanksgiving: songs for the Thanksgiving service or season
Easy as 1-2-3 or I-IV-V: hearing chord changes, a sequential approach.
Review from participant in Illinois Winter Dulcimer Weekend Workshop:
Thanks for sending it. Your workshop couldn't have been more perfect for what I needed next in my journey with the dulcimer!!!!!!! I have already introduced new music but even so much more important new ways of playing music together to both of the groups I play with. And they are loving it!!!!! I can't thank you enough for moving us forward into this direction!!!! I personally have been needing this for quite some time!. I also am hoping to come to the comfort and care workshop in July. Beckie and I have already gone through the training for Hospice care and knowing more from you about how to use our dulcimers in these settings will be an enormous help. Thank you so much for all you do to make dulcimer playing beautiful and meaningful!!!! Blessings, Kate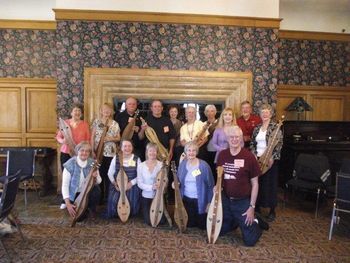 Spring Dulcimer Week, Augusta 2011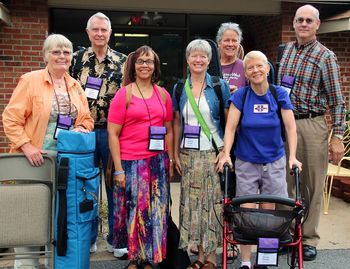 Dulcimer U, Comfort and Caregiving, 2013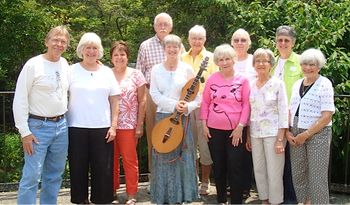 Brevard Dulcimers, 2012

   Online Music Lessons & Video Tutorials
To help keep you making music, I am offering private & group lessons via Zoom and video tutorials via Facebook 
All levels Mountain Dulcimer
Beginning and Continuing Lever Harp  
Music Theory
 To sign up for a group or private lesson, contact Lorinda here. 
Follow Lorinda Jones On Social Media