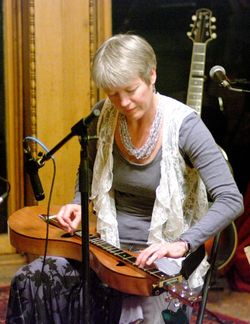 Lorinda first became interested in the mountain dulcimer as a music educator in the public schools. Her first self-published books were developed as instructional and song materials for her classroom and ensembles. As she began teaching adults, she continued to arrange music to meet the needs of her students. It was during this time, she formed the Heartland dulcimer club, now an active non-profit organization striving to preserve the traditional music of Kentucky and southern Appalachia. This group is active in the community, sponsors a traditional music festival, and under the guidance of Lorinda, has produced three traditional music CD recordings.
Since her initial involvement with teaching dulcimer, arranging music, and leading performing ensembles, Lorinda has gone on to have a successful solo performing career featuring the history and playing of the mountain dulcimer in Kentucky. Three of her books are published by Mel Bay Publications, five of her CD recordings feature the mountain dulcimer, and she is a contributing artist on both the "Great Players of the Mountain Dulcimer" by Michael Shull, and "Masters of the Mountain Dulcimer Play Christmas", by Susan Trump.
Lorinda has taught and performed at festivals and camps across the United States, including Kentucky Music Week, Swannanoa Gathering near Asheville, NC,  Meadowlark Music Camp, in Maine, John C Campbell Folk School in Brasstown, NC, and many more weekend events and venues.
As an extension to her music therapy and dulcimers in the classroom work, she has developed a method of teaching the dulcimer to special learners and a sequential program that uses colors, numbers, and an adapted approach for success.
She remains an active member of the Kentucky Arts on Tour Directory (a juried directory of the Kentucky Arts Council), performing for schools, Kentucky Crafted Market venues, and other local and state events, and is a member of the Kentucky Center for the Arts, "Arts in Healing" program.  
Photo Credit: Dave Savage, Augusta Heritage Center
"Lorinda's (dulcimer) playing is typically terrific, tremendously tasteful, totally titillating, and, as always, suits my ear to .. wait for it .. a 'T'. No Shadows CD review, DPN, Neal Walters
"Excellent teacher!
 Lorinda is a super teacher and a wonderful musician. She can answer just about any question about dulcimers it seems and always with an encouraging smile. I just love her combination of folksiness and classical training. She's simply delightful."
Beginning Mountain Dulcimer Class, Augusta Heritage Week
Lorinda Jones, solo, Just A Closer Walk With Thee
Lorinda Jones playing a jig set "Kilfenora Jig/Haste to the Wedding", accompanied by Karen Mueller (Spring Dulcimer Week, 2014)

   Online Music Lessons & Video Tutorials
To help keep you making music, I am offering private & group lessons via Zoom and video tutorials via Facebook 
All levels Mountain Dulcimer
Beginning and Continuing Lever Harp  
Music Theory
 To sign up for a group or private lesson, contact Lorinda here. 
Follow Lorinda Jones On Social Media
Join the email lists to stay updated