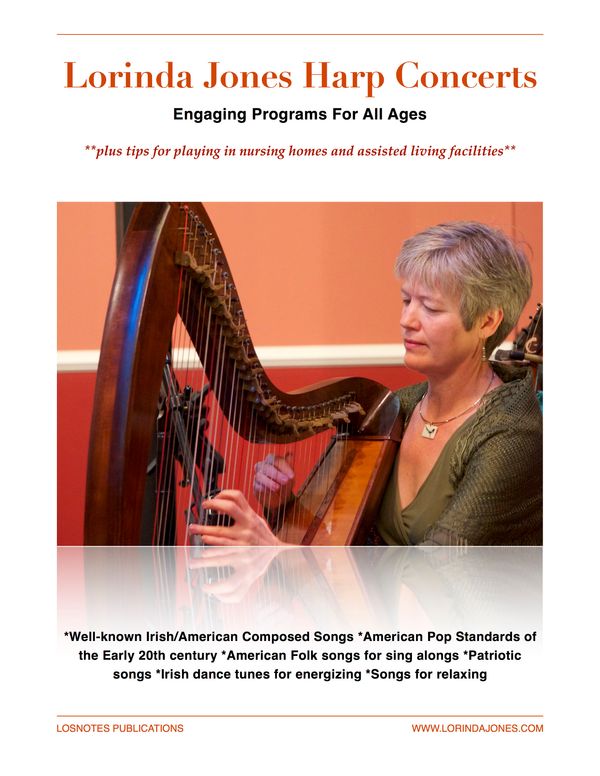 Lorinda Jones Harp Concerts
$15.00 Book.
Here you will find great wisdom from Lorinda Jones who has performed for a variety of audience types for many years.
This book is a guide for putting together effective programs for adults of all ages, with additional guidelines on playing in nursing homes and assisted living facilities.
The harp arrangements are in a variety of keys to facilitate singing, and are arranged in categories to make planning easier.  
Songs include well-known Irish/American composed songs like When Irish Eyes are Smiling, American pop standards like Take Me Out to the Ballgame, and even Irish dance tunes and American patriotic tunes.
"Hi Lorinda,
Just a quick note to let you know that the music book arrived and to also tell you how much I have been enjoying it!
I really like how you have it organized and your selections are great.
Thank you for the extra effort it took to get this to me, I really appreciate it.
Best wishes,
Bernice"
(British Columbia, Canada)
To view a sample sheet music go to Free Resources, Harp Sheet Music
Group Sing Along
Billy Boy
My Bonnie Lies Over the Ocean Oh, Susanna
Irish/American Songs
Morning Has Broken Too-Ra-Loo-Ra-Loo-Ral                              When Irish Eyes Are Smiling                                                                  My Wild Irish Rose Londonderry Air (Danny Boy)
Irish Dance Tunes
Garry Owen
Britches Full of Stitches
Rakes of Mallow
Rolling in the Rye Grass/Crucaharan Cross                                      Jack Mitchell's Polka/Peg Ryan's Polka 
Popular American Songs (Golden Oldies)
Lorinda Jones Harp Concerts                                                             Take Me Out to the Ballgame                                                          Daisy Bell
In The Good Old Summertime                                                              Let Me Call You Sweetheart                                                                  Old Folks At Home
Patriotic Songs
America The Beautiful Yankee Doodle
The Marine's Hymn America                                                                      The Caissons Go Rolling Along
Relaxing Songs (Hymn/Classical/Lullaby)
Brahm's Lullaby Ode To Joy
Be Thou My Vision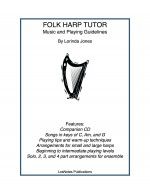 Folk Harp Tutor from Los Notes Publications
Book and CD/ $20.00
Companion CD
Songs in keys of C, Am, and G
Playing tips and warm-up techniques
Arrangements for small and large harps
Beginning to intermediate playing levels
Solo, 2, 3, and 4 part arrangements for ensemble
Table of Contents
Down In The Valley
Long, Long Ago
McFarlane's Lament
Ar Serjant-Major
Chimes of London
Katie Bairdie
Hewlett
The Dark Isle
Come Thou Font of Ev'ry Blessing
Scarborough Fair
Mairis Wedding
Annie Laurie
Abide With Me
Star of the County Down
Barbara Ellen
My Deaer Irish Boy
Rakes of Mallow
Skye Boat Song
The Water Is Wide
Minuet in G
Amazing Grace
Christ Child Lullaby
Morning Has Broken
Down By the Sally Garden
To view a sample sheet music from the book go to Free Resources, Harp Sheet Music
                  Online Music Lessons                    & Video Tutorials
To help keep you making music, I am offering private & group lessons via Zoom.  
     You can learn
beginning mountain dulcimer
continuing mountain dulcimer
folk harp  
 To sign up for a group or private lesson, contact Lorinda here. 
Previous events
NGFDA Dulcimer Festival
 —  —
Black Mountain Dulcimer Festival
 —  —