Lorinda offers a wide range of performance and learning options!      She performs as a soloist as well as with other folk musicians.           You can tailor the musical styles and ensemble sizes for any             event, classroom, or retreat.  
Lorinda Jones, soloist
Lorinda is available to provide solo performances on Celtic harp and mountain dulcimer. Solo performances are great for small and large audiences and can be tailored to suit the needs of your event.
Hear samples or Lorinda's solo work: 
Schedule a solo or small ensemble performance here 
 Na Skylark Trio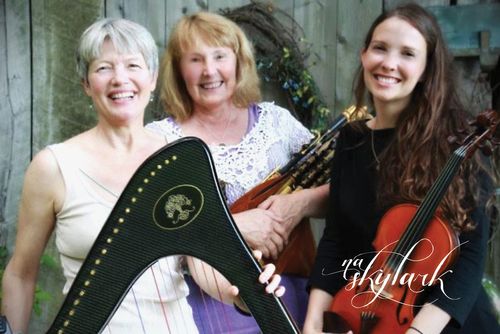 Lorinda Jones, Cathy Wilde Jannell Canerday
Lorinda is the harpist for traditional Irish music trio na Skylark. Enjoy the ancient sounds of the pipes and harp, Irish flute and tin whistle, fiddle, voice, and                                          the American mountain dulcimer.  
Hear samples of na Skylark:
Schedule a na Skylark performance here
Heartland Harp Ensemble
Lorinda is the director for this community harp ensemble. The ensemble has performed at  special events throughout the community.  The Heartland Harps are accompanied by flute, psaltery, bowed dulcimer, accordion, Irish whistle, and vocals.  This large ensemble provides a beautiful experience for large and small venues. 
Hear a sample of the Heartland Harp Ensemble:
Book the Heartland Harp Ensemble here
Heartland Dulcimer Club 
Lorinda is the artistic director and a founding member of the Heartland Dulcimer Club.  The Club adds a lot of fun and great music to any event. You can learn more about the Heartland Dulcimer Club at heartlanddulcimerclub.org
Hear a sample of the Heartland Dulcimer Club:
To book the Heartland Dulcimer Club, email heartlanddulcimer@gmail.com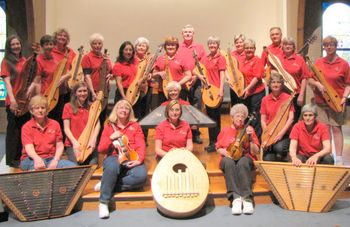 Musical Journey of Kentucky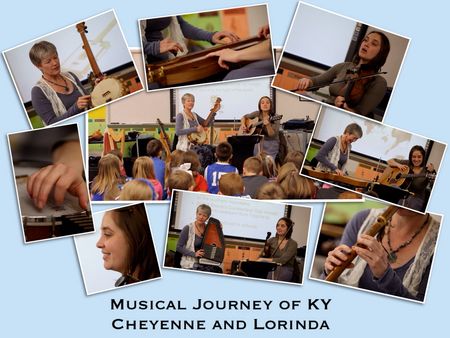 Lorinda Jones and friends provide a "Musical Journey of Kentucky" through songs, stories, instrument demonstrations, history, and LOTS of participation.  This action-packed 45-60 minute program engages the students from the first notes of the native American Indian flute to the toe tapping jigs of early America.  The show is enhanced by a slideshow that encourages the students to be engaged with the history of America's folk roots music in the mountains of Kentucky.  With special emphasis on the mountain dulcimer, which is the state instrument of Kentucky, students get an understanding of its role in the development of folk music and the blending of the cultures that brought it to America.
Hear a sample of this class:
Book this musical storytelling event here 

   Online Music Lessons & Video Tutorials
To help keep you making music, I am offering private & group lessons via Zoom and video tutorials via Facebook 
All levels Mountain Dulcimer
Beginning and Continuing Lever Harp  
Music Theory
 To sign up for a group or private lesson, contact Lorinda here. 
Like Lorinda Jones Music on FB
Follow Lorinda Jones On Social Media
Join the email lists to stay updated