"Lorinda Jones performed traditional folk instruments at Lebanon Elementary on March 28. As I observed the presentation to the fourth and fifth grade students, her musicianship impressed me. However, what really amazed me is how she incorporates core content into her performance. This presentation was very educational and was clearly focused on student learning. I truly appreciate Ms. Jones for coming to Lebanon Elementary and can only hope she enjoyed us as much as we enjoyed her.
Kandice Spalding
Music Instructor
As an adjudicated member of Kentucky Center's Education roster, this school program "Musical Journey of Kentucky" celebrates Kentucky's roots through song and dance tunes reflecting the influence of immigration in the development of traditional folks songs and instruments. A musical journey of Kentucky features the mountain dulcimer history and evolution to present day and also includes songs and demonstrations on the banjo, fiddle, folk harp, autoharp, and more! This is an interactive program both visually, and musically as the students sing along and sometimes join in the music making themselves. The program was designed to cover the core content material of 4th and 5th grade students, but has expanded to reach reach audiences from preschool to highschool. A powerpoint slideshow is available to accompany the performance and adds to the knowledge and involvement in each program.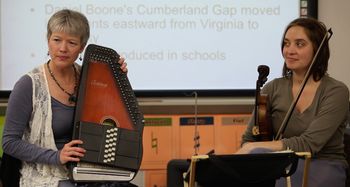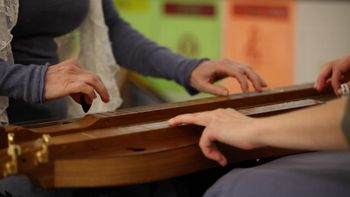 "Listen, Create, Compose, and Evaluate"
As an artist in residence, Lorinda Jones and Cheyenne Mize can turn your classroom into a space of creativity based on the stories, songs, and dances of the Appalachian tunes of Kentucky and beyond.  As a great follow-up, or pre-cursor, to the Musical Journey of Kentucky, book artists that have had experience in creating the art themselves, and sharing that creative ability with the students in small groups, or individual classrooms.
What's Hot off the Press!

   Online Music Lessons & Video Tutorials
To help keep you making music, I am offering private & group lessons via Zoom and video tutorials via Facebook 
All levels Mountain Dulcimer
Beginning and Continuing Lever Harp  
Music Theory
 To sign up for a group or private lesson, contact Lorinda here. 
Like Lorinda Jones Music on FB
Follow Lorinda Jones On Social Media
Join the email lists to stay updated