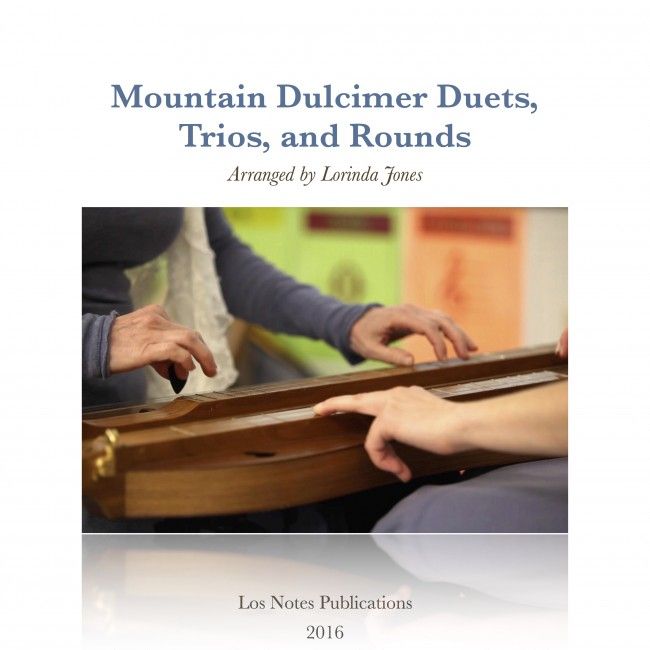 Mountain Dulcimer Duets, Trios, and Rounds
Duets and Trios for mountain dulcimer in DAD tuning. Includes American and Celtic folk tunes, Fiddle tunes, Christmas, Cowboy and Classical tunes.
ROUNDS
Make New Friends                                    White Coral Bells                                 Shalom Chaverim                                Alleluia
DUETS
Kum Ba Yah
We Shall Overcome
Liza Jane
French Mazurka
Good King Wenceslas                                    Waltz Quadrille                                Southwind
Largo from the
"New World Symphony" Hewlett
Be Thou My Vision Coleman's March
The Water Is Wide Sonny's Mazurka
Give Me Your Hand
TRIOS
The Old Chisholm Trail                          Sweet Betsy From Pike                            Little Birdie
All The Way To Galway
Mountain Dulcimer: A Survival Guide for Beginners
Equipment, Part of a Dulcimer, Tools, Strings, Picks,Tuners,  Straps, Fret Markers, Tuning
1-5-8 or Mixolydian Ear vs. Electronic
Notes Scales
Mixolydian vs. Major First Songs
By Ear and By Tablature (Fret Numbers) By Notes
Rhythm Hand and Strumming Fingerpicking
Introduction to Chords Two Chord Songs Three Chord Songs
Finger Positions, Getting around the melody string
Melody Across the Strings
Picking the middle string 
More Chord Theory
I- IV- V Chord Progression
Chords in D Major
Combining chords and melodies
Amazing Grace
Bile Them Cabbage Down                                                                                                             Buffalo Gals
Camptown Races
Chanters Tune
Going to Boston
Gray Cat on a Tennessee Farm                                                                                                     Happy Land
Home On The Range
Lil' Liza Jane
Old Joe Clark
Oh, Susanna
Rock-A My Soul
Shortnin' Bread
Soldiers Joy
Streets of Laredo
Susanna Gal
What A Friend We Have In Jesus                                                                                                       What'll I Do With The Baby-O
Traditional Playing of the Mountain Dulcimer
This book is great for those learning to play, as well as those that want to develop their skills and try playing with a noter, as well as advanced chord arrangements.
Table of Contents

Bile Them Cabbage Down
Go Tell Aunt Rhody
Down In The Valley
Waterbound
Will The Circle Be Unbroken
Polly Wolly Doodle
Little Birdie
The Riddle Song
Handsome Molly
Careless Love
Banks of The Ohio
Hand Me Down My Walking Cane

My Home's Across The Blue Ridge Mountains
Long Journey Hoe
Nine Pound Hammer
Rosewood Casket
Pay Me My Money Down
John B.
Oh, Them Golden Slippers
Wildwood Flower
Cripple Creek
Fair and Tender Ladies
Lullabies and Other Lilting Melodies
A collection of gentle tunes to soothe the day away. Available in print or as an e-book.
Table of Contents

Lullabies
Rock-A-Bye Baby
The Cradle Song
Still, Still, Still
I Will Sing A Lullaby
Slumber Song
All The Pretty Horses
Oh, How Lovely Is The Evening

Classical
Ode To Joy
Andante
Serenade
Traumerei
The Morning Song
Dona Nobis Pacem
Jesu, Joy of Man's Desiring

Folk Melodies
Old Folks At Home
Annie Laurie
Wild Mountain Thyme
My Wild Irish Rose
My Old Kentucky Home
Darling Nelly Gray
Beautiful Dreamer
Believe Me, If All Those Endearing Young Charms
Hard Times Come Again No More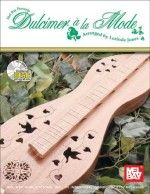 Dulcimer a la Mode
Table of Contents
DAA Tuning
Rosewood Casket
Bendemeer's Stream
Careless Love
Flow Gently, Sweet Afton
Burden Down
DAG Tuning
Cluck Old Hen
Pretty Polly
Scarborough Fair
Drunken Sailor
She's Like A SwallowDAD Tuning
Hurree, Hooroo
Rock-A-My Soul
Little Maggie
Over The Waterfall
June Apple
DAC Tuning
Butcher Boy
Nine Hundred Miles
Wayfaring Stranger
Bound for the Promised Land
Shady Grove
Christmas Solos and Duets for the Mountain Dulcimer
All Through The Night
Angels We Have Heard On High
Away In A Manger
Christmas Day In The Morning
Deck The Halls
Hark, The Herald Angels Sing
I Saw Three Ships
In The Bleak Midwinter
Jesus, Jesus Rest Your Head
Joseph Liver, Joseph Mein
Jesus Born In Beth'ny
Now the Holly Bears A Berry
Still, Still, Still
Star Of The East, Brightest adn Best
The Snow Lay On The Ground
Silent Night
The Huron Carol
There Was A Pig Went Out To Dig
We Wish You A Merry Christmas
What Child Is This?            
Sacred Music Collection
Hymns, spirituals, and gospels arranged for mountain dulcimer. Mostly DAD tablature, with some duet arrangements.
Includes:
Abide With Me
Amazing Grace
Balm In Gilead
Count Your Blessings

Go Tell It On The Mountain

Deep river
Down To The River
He Leadeth Me
How Firm A Foundation
I Will Bow and Be Simple
In The Sweet By and By
Love Is Little
Lovely Love
Mary, Don't You Weep
Morning Has Broken

My Lord, What a Morning
Nobody Knows The Trouble I've Seen

It is Well With My Soul
My Shepherd Will Supply My Need
O, Dem Golden Slippers
Just As I am
Peace Like A River
Precious Memories
Simple Gifts
Steal Away
Sweet Hour of Prayer
Swing Low, Sweet Chariot
There Is A Fountain
The Unclouded Day

All People That on Earth Do Dwell
Southern Harmony For Mountain Dulcimer
3-part arrangements for mountain dulcimer based on the vocal arrangements of the shaped note singing arrangements in William Walker's Southern Harmony, and Musical Companion, newly released and published by University of Kentucky Press.
Soprano, Tenor, and Bass parts for:
Holy Manna
New Britain (Amazing Grace)
Rock of Ages
Happy Land
The Promised Land
What Wondrous Love Is This
When I Am Gone
The Christian's Farewell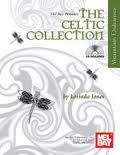 The Celtic Collection
A collection of songs, jigs, hornpipes, airs, polkas, and marches from the Celtic lands of Scotland, Ireland, and England.  The songs are arranged for mountain dulcimer primarily in 1-5-8 (Mixolydian, DAD) tuning along with a few tunes in 1-5-5 (Ionian, DAA) tuning.  The arrangements make use of the capo as well as playing tunes in Em and Bm.  Two of the songs include a Part 1 and Part 2 as suggested harmony.  The book also features a CD recording of solo and mountain dulcimer playing each tune in the book through twice at a medium tempo.  The stereo recording allows the listener to learn the tune by ear, or follow along by tab, or traditional notation.
Table of Contents
George Brabazon
Irish Lamentation
Loch Lomond
Foggy Dew
The Minstrel Boy, (DAD/AEA)
Flowers of Edinburgh
Scotland The Brave
Hewlett
Off She Goes
The Dawning of the Day
Love Is Teasin'
The Irish Washerwoman
Farewell to Whiskey
The Wicklow Hornpipe
Sean Ryan's Polka
The Hills of Lorne
Shepherd's Hey
The Water Is Wide
Planxty Irwin
Star of the County Down
Country Gardens
The Girl I Left Behind
The Keel Row
The Last Rose of Summer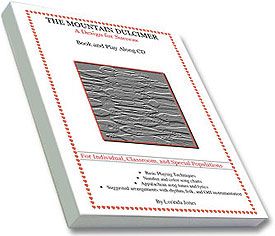 The Mountain Dulcimer: A Design for Success
ebook and digital music files
The Mountain Dulcimer
A Design for Success
ebook and audio files
For Individual, Classroom, and Special Populations
Basic Playing Techniques
Number and color song charts
Appalachian song tunes and lyrics
Suggested arrangements with rhythm, folk, and Orff instrumentation
Book and CD
Table of Contents

Colored Charts

Are You Sleeping?

Train Is A-Coming

Paw-Paw Patch

Hush Little Baby

Skip To My Lou

He's Got The Whole World In His Hands

Mama Don't 'Low

Aiken Drum

Bile Them Cabbage Down

One For The Little Bitty Baby

Skip To My Lou

Tablature

Bile Them Cabbage Down

Goose Played The Fiddle

Ground Hog

Go Tell Aunt Rhody

Hush Little Baby

Ida Red

Old Bald Eagle

Old Dan Tucker

Paw-Paw Patch

The Riddle Song
Advanced Arrangements in DAA
Westphalia Waltz
Santa Lucia
Will You Listen To me My Brown-Haired Girl?
My Wild Irish Rose
Barlow Knife
Daisy Bell
'Tis The Old Ship of Zion
The Haven Of Rest
Rock of Ages
He Is Born, The Holy Child
Jingle Bells
Go Tell It On The Mountain
The Cherry Tree Carol
O Come All Ye Faithful
Good King Wenceslas
We Wish You A Merry Christmas