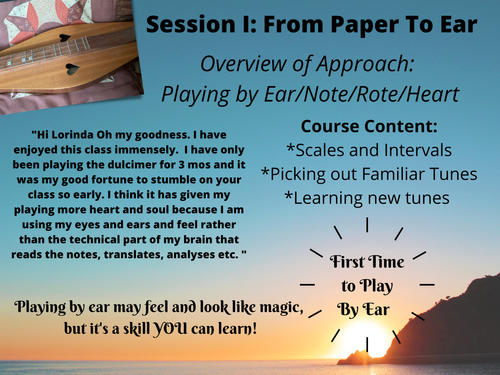 Are you ready to gain confidence in your playing and improve your musicianship overall as you improve your dulcimer player?  If so, you are in the right place! This course starts at the very beginning teaching how to hear and identify the scales and intervals on the dulcimer and to relate those to familiar songs. We will have an overview of the understanding of what playing by ear is and how it is used in different genres of music. We will learn to play songs you already know and gradually move into new tunes so that you are learning to hear and memorize simultaneously. You will learn a variety of techniques designed to help you learn songs by ear including: listening, singing, echoing and analyzing song structure.  You will have access to a You Tube playlist of all the songs you are learning, plus audio files you can download and listen to as often as needed. And after completing the sessions, you will receive PDFs of the song lyrics and tab.  The course is jam packed with music, techniques and practical application of the process of playing by ear!
*Note: Playing by ear takes some time to develop. You will not develop this skill in one lesson!  You need to be patient and give yourself time to understand the process. This course will guide and support you along this journey in a safe community of sharing and caring.
Class Dates: Saturday, 10:00 AM Eastern, February 10, 17, 24, March 2, 2024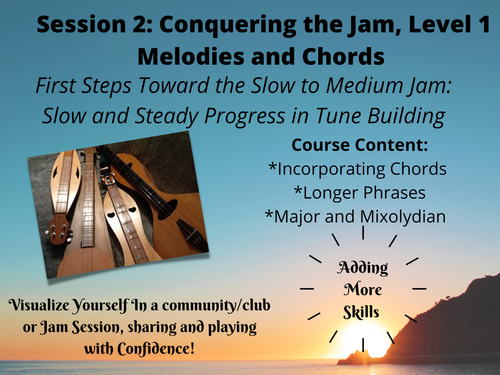 This course will move you into playing and hearing basic chord changes, and modes and tunes that can be found in most old-time and dulcimer jam sessions across the U.S.  The focus of this course will be to extending songs that start below the scale on the middle string and finding those melodies by ear, which is a little more tricky than just the melody string melodies.  And once again you will have access to audio and video recordings for study and practice and then song lyrics and tab upon completion of the course.  We will also talk about basic jamming skills but more importantly, building more skills for you learn how to listen to tunes so you can play by ear for your own music interests, as well as playing with others.  Both major and mixolydian song tunes will be taught in this course.
Class Dates: Saturday, 10:00 AM Eastern, February 10, 17, 24, March 2, 2024