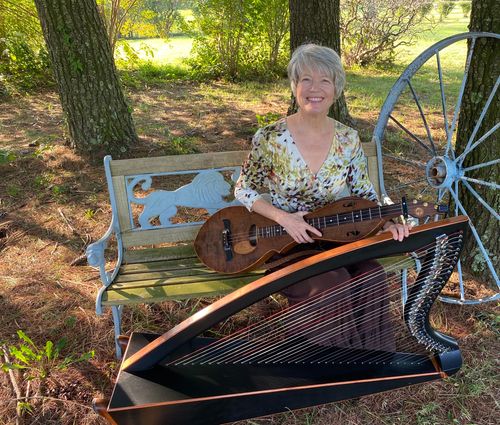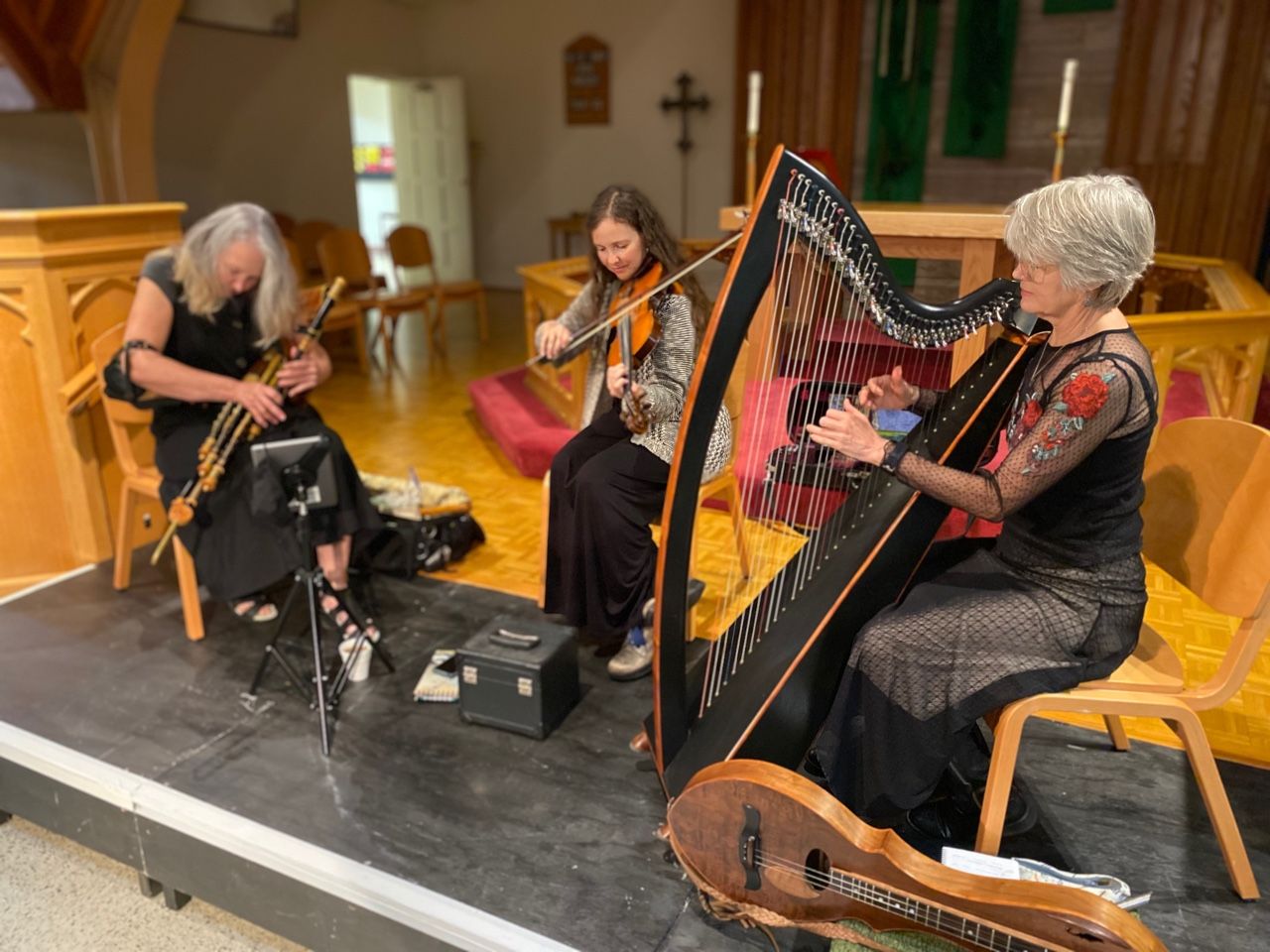 Join us on the Traditional Music Band Wagon!
Lorinda Jones Music:
To pursue my own creative well-being through the teaching and playing of traditional music inasmuch as it inspires others to become involved in their own self or community music making.
Performing songs on the mountain dulcimer and Celtic harp, Lorinda is passionate about connecting with others through Kentucky roots music. Her love for music and learning have led her to build a fulfilling life and career as a music therapist, music educator, performer, composer, recording artist and publisher.
Lorinda is a long- standing member of the Kentucky Arts Council, Performing Arts on Tour Directory and ArtsforAll KY. 
Lorinda Jones was fortunate enough to be surrounded by all kinds of music growing up in the small town of Tompkinsville, Kentucky alongside the knobs of the Cumberland plateau. 
Her father was a shaped note singing leader, her grandfather an old-time banjo player and her grandmother on the other side, a hammered dulcimer player. She grew up playing gospel piano in church but also loved the classical piano study and eventually went to college as an oboe major, performing as a solo and orchestral player. 
But it was when she met the "friendly cardboard dulcimer" and began teaching and sharing the traditional music that she felt she had "come back home" to her roots. Lorinda has taught the dulcimer in schools, at festivals across the country and one of the few music therapists to have developed approaches to using the dulcimer in a therapeutic setting. She has been a pioneer for the dulcimer in Kentucky inspiring players of all ages through her teaching and the Heartland Dulcimer Club. 
Lorinda decided to expand her musical pursuits when she discovered the "folk or lever harp." It was then that she became very interested in learning the the music of this beautiful ancient instrument and the rich history of the Celtic music.  She began teaching harp at the John C. Campbell Folk School some twenty years ago, created the Heartland Harp Ensemble in Elizabethtown and now teaching at the Riley School of Irish music in Cincinnati. 
Her pursuit of sharing the ancient music of Ireland can be heard in the recordings and performances of na Skylark, an all female trio specializing in the traditional music of Ireland performed on traditional instruments, harp, fiddle, pipes, flutes and whistles. Their recording, Old Ceol, has been played on numerous radio and podcasts of Celtic music.
                  Online Music Lessons                    & Video Tutorials
To help keep you making music, I am offering private & group lessons via Zoom.  
     You can learn
beginning mountain dulcimer
continuing mountain dulcimer
folk harp  
 To sign up for a group or private lesson, contact Lorinda here.