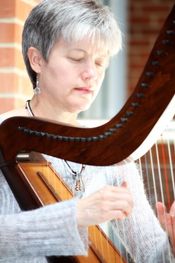 "On behalf of the Kentucky World Trade Center, I wish to extend our heartfelt appreciation for your attendance at the Muhammad Ali Center. You did an outstanding job entertaining our guests and added a memorable touch to our event."
 Martha Layne Collins
KWTC
Former Governor of Kentucky
Solo Harp Performance
Lorinda began her love of music playing the piano as a young child.  Continuing through college, the extensive background in piano allowed her to quickly learn the harp, which  she discovered while attending a folk music festival.  It was there she was introduced to the rich musical history of this ancient stringed instrument, and began a new passion that has led her in many wonderful directions through teaching and performance.
With occasional workshops by folk harpists Kim Robertson, Margie Butler, Christina Tourin, and others, Lorinda is basically a self-taught harpist.  Using her own arrangements, and after just three years of playing, she produced her first CD, featuring herself as a multi-instrumentalist, as well as a harp player!  She has since produced five more CD recordings of Celtic, Christmas, and Renaissance music.
Lorinda has also self published "The Folk Harp Tutor", an instructional book and CD compilation, and "Assorted Harp Arrangements".  She teaches at camps and festivals across the United States, including the Cincinnati Folk Festival, Louisville Irish Fest, Jan Pennington Gray Harp Camp, and John Campbell Folk School, in North Carolina.  She teaches privately, and is the director of The Heartland Harp Ensemble, in Elizabethtown, KY where she continues to arrange music for multi-level players, and is a long-standing member of the Kentucky Arts Council, Arts on Tour Directory, and most recently a member of the Kentucky Center's Arts In Healing program.
"You were a delight, a treat, and a revelation to hear solo.  Your stage presence is wonderful.  Love your phrasing, polish, and everything in your playing."
Nancy Bick Clark, Cincinnati Celtic Festival
What's Hot off the Press!

   Online Music Lessons & Video Tutorials
To help keep you making music, I am offering private & group lessons via Zoom and video tutorials via Facebook 
All levels Mountain Dulcimer
Beginning and Continuing Lever Harp  
Music Theory
 To sign up for a group or private lesson, contact Lorinda here. 
Like Lorinda Jones Music on FB
Follow Lorinda Jones On Social Media
Join the email lists to stay updated