Arrangements for Harp
(click on each title for a printable pdf format, and on the book  title for the link to buy)

MacPherson's Lament
One of the nine laments arranged for the book Laments, Lullabies, and Calming Classics
Daisy Bell
A song from the golden oldies.  Found in the book Lorinda Jones Concert Programs.
Auld_Lang_Syne_Original_Air_Harp.pdf
Robert Burns selected this ancient Air to set his poem, Auld Lang Syne, to.  Later, the tune was changed to the very popular version that is usually heard on New Year's Eve.  I heard this performed by the band Keltricity, during our Yule Ya'll performance.
Classical tune arranged for harp.  Simple, but effective!
In May was written by Franz Behr (1837-1898), a German composer of songs and solo piano pieces.
Music from Audio Sample Page

Listen to Morning Has Broken on the Audio Sample Page.  This was recorded by Just By Chance on Cottages and Castles.  It was based on the arrangement in the book, The Folk Harp Tutor. 
Click the title below for a simple 4 part ensemble arrangement of Morning has Broken.
I like to use this arrangement when leading the song for singing.
Morning_Has_Broken-Harp in A.pdf
A multicultural tune for Harp and Psaltery
What's Hot off the Press!
Click on the button to purchase the upcoming Summer Harp Goodies Course.
 Registration closes June 13, 2022. 
$95 early bird discount through May. $115 after June 1, 2022 
Class Dates/Times: 1:30 PM Eastern June 14, 28; July 12, 26; August 9, 23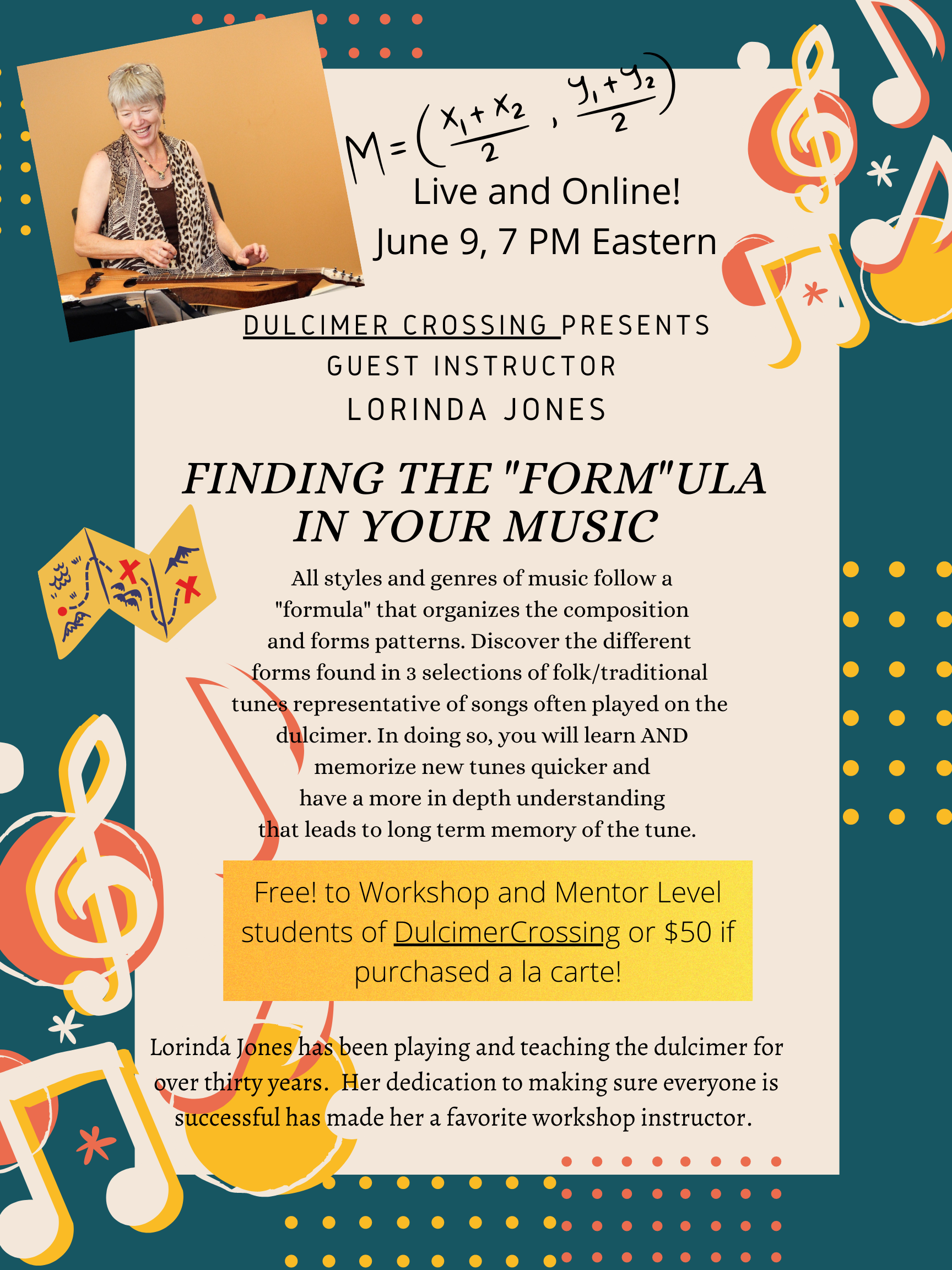 Latest video release: Heartland Harp Ensemble performs "In May" by Franz Behr.
   Online Music Lessons & Video Tutorials
To help keep you making music, I am offering private & group lessons via Zoom and video tutorials via Facebook 
All levels Mountain Dulcimer
Beginning and Continuing Lever Harp  
Music Theory
 To sign up for a group or private lesson, contact Lorinda here. 
Like Lorinda Jones Music on FB
Previous events
Finding the "form"ula in your music
Follow Lorinda Jones On Social Media
Join the email lists to stay updated